A journey of discovery in Tennengau, in the Salzkammergut to Hallstatt and as far as Berchtesgaden
"Movement-reste-pleasure ": The holiday triumvirate also stands above the excursion destinations around Abtenau. Marvel at waterfalls, thrill on the summer toboggan run experience and relax in comfort at the Egelsee: discover your favorite place!
But not only the Tennengau has a lot to offer: from the glacier on the Großglockner to the largest ice cave in Europe to the well-fortified castle: the Salzburg region shines with Excursion destinations of superlatives! Discover unique natural monuments, museums and marvels of alpine construction technology on vacation.
Natural jewel Bluntautal in summer and winter
Contact
Bluntausee 5440, 5440 Golling an der Salzach, Austria
+43 6244 4356
Simply "naturally feel good"
Contact
Möslstrasse 199, Golling an der Salzach, Austria
+43 (6244) 20040-0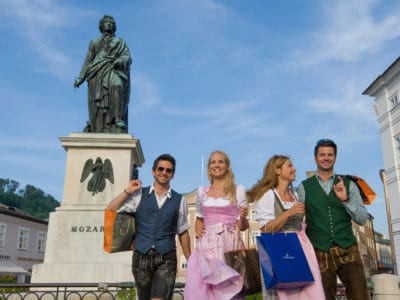 Fashion. style. Tradition.
Contact
Franz-Josef-Kai 1, 5020 Salzburg, Austria
+43 662 84 54 53
Experience beer with all your senses
Contact
Bräuhausstrasse 9, 5020 Salzburg, Austria
+43 50 14920
From the exotic lion to the native ibex
Contact
Hellbrunnerstrasse 60, 5081 Anif, Austria
+43 662 8201760
"Amadeus Salzburg" gives its guests exceptional views of the city and ...
Contact
Franz-Josef-Kai 1a, Salzburg, Austria
+43 662 82576912
Expect the unexpected
Contact
Fürstenweg 37, Salzburg, Austria
+43 662 8203720
Majestic and fabulous - numerous legends entwine around the mountain
Contact
Dr.-Friedrich-Oedl-Weg 2, 5083, Austria
+43 6246 724770
Visit the UNESCO World Heritage in the heart of the city
Contact
Mirabell Palace, Mirabellplatz, Salzburg, Austria
+43 662 80720